March 2016- Associate Member of Craft Potters Association (CPA)
May: Art sale at Lymington Halls, Hants.
August 2016. Exhibition at Romsey Abbey, Romsey, Hants. (Organised by Rum's Eg Gallery)  Entitled 'Dissolution and Revolution', part of Hampshire's 'Royal Blood' theme for 2016.  
Nov 5th 2016: Art and Craft sale in Marlborough, Wiltshire. Thanks again to the organizers and to everyone who bought a piece!
Saturday, 3rd December, 2016. Winchester Guildhall 
Upcoming Exhibition at Sculpt Gallery, Great Braxted, Essex.
3rd-23rd December. 'Studio ceramics by 12 national and international artists'
email: info@sculptgallery.com
Thanks to curator Debra Blik for organizing a brilliant exhibition!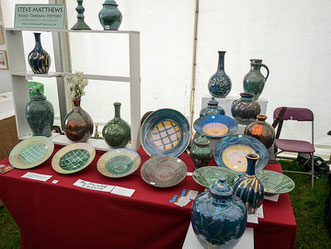 Stall at Hatfield Art-In-Clay 2017
A good clutch of pots found new homes.
Note the diffuse light which is most suitable for bringing out the best in reduction lusterware.
A great weekend at Hatfield ArtInClay. Many thanks to Andy McGuiness and Valentine Clays for organising this event.
Christmas Art and Craft Fair. Sunday 26th November. Colbury Memorial Hall, Main Road, Colbury SO40 7EL (nr Ashurst, New Forest) . Opens 10am to 4pm
-Rum's Eg Gallery Closure- Unfortunately, this brilliant gallery in Romsey has had to close. I can only thank the owners and staff for all they have done to promote my work this past few years. 
CHALK'S GALLERY, LYMINGTON now has a selection of work available